Florida Food Truck Insurance
Our independent insurance agents are here to make sure your Florida food truck business has coverage options available that meet your needs.
That way, you can focus on serving your customers the great food you're known for without having to worry about insurance.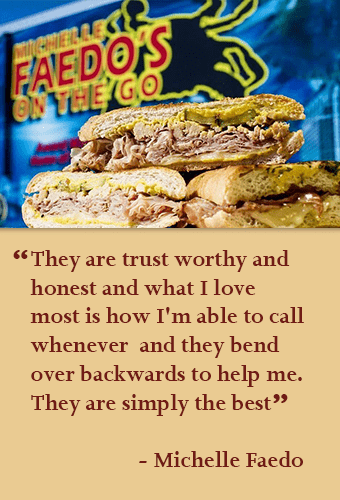 Food truck insurance is a relatively new type of insurance, but our independent insurance agents fully understand the risks associated with this unique industry as well as the requirements.
What coverage do I need in Florida?
That will depend on your business. However, these are some of the most common types of coverage utilized:
Commercial Auto Insurance There are two parts to a commercial auto policy.  The first part is the physical damage to the vehicle and any permanently attached equipment against perils like fire, theft, vandalism and flood.   The second part of the policy is the liability aspect, where the company agrees to pay up to a certain amount (the liability limit you select) in the event of an accident where you are at fault.
Equipment for any equipment that is not permanently attached (maybe your generator, point of sale system, presses etc) you can insure it against theft, vandalism, or fire damage.
General Liability Insurance, also known as "slip-and-fall" coverage, protects your business when you're responsible for injury to a third party and/or third party property damage. Examples include a customer having an allergic reaction to food you served, copyright or trademark infringement, etc. Any event that you go to will ask for proof of this coverage typically with them listed as an 'additional insured'.
Workers' Compensation Insurance is often mandatory, and covers medical expenses, disability expenses, support payments and wages of an employee injured on the job.
Umbrella Liability Insurance is an additional option if you wish to increase your coverage limits for General Liability Insurance, Workers' Compensation, and other policies.
The food truck industry requires a unique blend of business insurance and automobile insurance, which can be complicated and stressful if you don't have all the risks of your business properly covered.
Our agents can help you insure your Florida food truck business. Contact us for a free, no-hassle quote and more information today!
---
Need an insurance quote? Get in touch!
Access quotes from Florida's most trusted insurance carriers. It's comparison shopping at the click of a mouse.