Florida Food Truck Insurance
Our independent insurance agents are here to make sure your Florida food truck business has the best coverage options available that meet your needs.
That way, you can focus on serving your customers the great food you're known for without having to worry about insurance.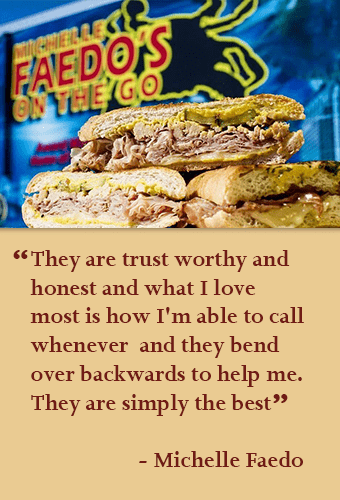 Food truck insurance is a relatively new type of insurance, but our independent insurance agents fully understand the risks associated with this unique industry as well as the requirements.
What coverage do I need in Florida?
That will depend on your business. However, these are some of the most common types of coverage utilized:
Commercial Auto Insurance specifically covers your truck (not the kitchen equipment) in the event of an accident involving the vehicle, including medical expenses and liability claims if you are sued. Other covered events include fire or flood damage, vandalism, and more.
Business Property Insurance protects your kitchen equipment, utensils, and culinary supplies from mechanical failure including power surges, as well as fire, extreme weather such as floods, and theft and/or vandalism.
Off-Property Insurance is similar to Property Insurance, but "floats" with your equipment, meaning you're protected whether in-transit, storing equipment, or parked.
General Liability Insurance, also known as "slip-and-fall" coverage, protects you and your food truck when you're responsible for injury to a third party and/or third party property damage. Examples include a customer having an allergic reaction to food you served, copyright or trademark infringement, reputation damage, etc.
Workers' Compensation Insurance is often mandatory, and covers medical expenses, disability expenses, support payments and wages of an employee injured on the job, as well as court costs if the employee sues your business, and funeral costs if an employee is killed on the job.
Umbrella Liability Insurance is an additional option if you wish to increase your coverage limits for General Liability Insurance, Workers' Compensation, and other policies.
The food truck industry requires a unique blend of business insurance and automobile insurance, which can be complicated and stressful if you don't have all the risks of your business properly covered.
Our agents can help you insure your Florida food truck business. Contact us for a free, no-hassle quote and more information today!
Photo Credit: CC Image Courtesy of Edsel Little
Need an insurance quote? Get in touch!
Access quotes from Florida's most trusted insurance carriers. It's comparison shopping at the click of a mouse.