Getting Ready for Irma
September 6, 2017
Due to Hurricane Irma's likely projection, our office is closed until Tuesday, September 12th so that our employees can secure their homes and their families.
All of our companies are closed for binding so we can no longer make any modifications nor write any new policies.
Please follow us on Facebook for updates, which provided we still have internet, we will be monitoring.
If you need to file a claim, we strongly suggest that you contact the insurance company directly as that will insure the fastest turnaround on your claim.   For your convenience, here is a list of the claims department for most of our companies that you can report the claim directly to.  When they give you a claim number, please be sure to write it down in a safe location.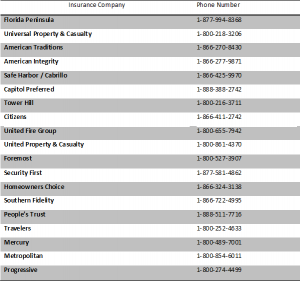 Follow these basic guidelines to help your claims process go as smoothly as possible:
Policy: Keep a hard copy of your various insurance policies in a safe location.
Document: Take plenty of pictures and video of your possessions and your home. Make a list of all the damaged items and the estimated value of those damaged items.  Don't discard any damaged items before talking to the insurance company.
Receipts: Keep receipts! After the storm has passed, you may need to make some immediate repairs to help prevent further damage.  Those receipts, receipts for food and hotels are very important to keep.  Use your phone (if possible) and take pictures of those too just in case so they don't get damaged.
Patience: The faster you can call in your claim, the better.  However, please keep in mind that with the magnitude of this storm, there are going to be a large number of claims. This means your claims adjuster is probably going to be dealing with hundreds of claims.  Don't be afraid to call your adjuster and ask for updates and you can always call us as well but a little patience and understanding can really affect your experience. Providing details, pictures and receipts are going to help move your claim along.  If you can, you might want to get an estimate of repair costs from an independent contractor. Watch out for 'assignment of rights and benefits' scams.  It can be tempting to sign up with the first repair crew that comes your way, but please contact your insurance company first to avoid any issues.
Florida Peninsula 1-877-994-8368
Universal Property & Casualty 1-800-218-3206
American Traditions: 1-866-270-8430
American Integrity: 1-866-277-9871
Safe Harbor / Cabrillo: 1-866-425-9970
Capital Preferred: 1-888-388-2742
Tower Hill: 1-800-216-3711
Citizens:1-866-411-2742
United Fire Group: 1-800-655-7942
United Property & Casualty: 1-800-861-4370
Foremost: 1-800-527-3907
Security First: 1-877-581-4862
Homeowners Choice: 1-866-324-3138
Southern Fidelity: 1-866-722-4995
People's Trust: 1-888-511-7716
Travelers: 1-800-252-4633
Mercury: 1-800-489-7001
Metropolitan: 1-800-854-6011
Progressive: 1-800-274-4499
Auto-Owners: 1-888-252-4626
Liberty Mutual: 1-800-362-0000
For a complete list, visit: http://famins.com/service/claims-reporting/